2002 Honda CR-V A/C Compressor Four Seasons
P311-2C8C9BF 58881 New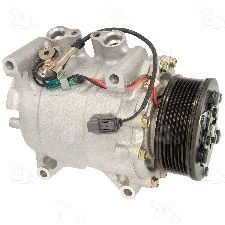 New Keihin HS110R Compressor with Clutch
with HS-110R Compressor New with Clutch OE Design DeSlugger Recommended to Eliminate Compressor Damage on Vehicles with Low Mount Compressor; Condenser Replacement Strongly Recommended When Replacing Compressor. Condenser can not be properly flushed.
New Compressor
Product Attributes:

:

New

Clutch Pulley Diameter:

3.875

Coil Clock Position:

Wire Lead

Compressor Type:

Hs110r

Ctch Dia. MM Prmy:

98.425

Description:

Compressors - New

Mount Distance IN:

1.400

O-Ring A Number/Desc:

[24681] / Green O-ring

O-Ring B Number/Desc:

[24661] / Green O-ring

Oil Type:

Pag 46

Refrigerant Type:

R-134a

Style:

Scroll

New Compressors meet or exceed OE specifications; New Compressors are validated for the equivalent of 100,000 miles; New Compressors come pre-charged with 3 ounces of PAG oil for R134a or R1234yf applications; New Compressors come with direct fit connectors for ease of installation and to help eliminate splicing; New Compressors come with the R12/R134A/1234yf required o-rings /sealing washers to install the compressor; New Compressors are built in a ISO9001:2015 Certified facility. These facilities go through several audits to ensure quality standards in the manufacturing process.