1978 Mercedes-Benz 230 Power Brake Booster Cardone
P311-3D0C90D 53-2650 Remanufactured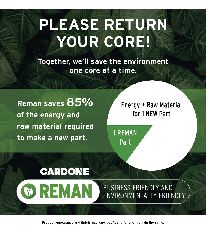 Unloaded Vacuum Power Brake Booster - Import
w/o Master Cylinder
Reman. A-1 CARDONE Vacuum Booster
Product Attributes:

Brake Booster Diaphragm Style:

Single Diaphragm

Color/Finish:

Gray

Diaphragm Diameter:

10.670"

Master Cylinder Included:

No

Master Cylinder Stud Thread Size:

M8 X 1.25

Material:

Steel

Package Contents:

Master Cylinder Neck Seal, Instruction Sheet

Product Condition:

Remanufactured

A1 CARDONE Remanufactured Vacuum Brake Boosters, Hydro-Vac Boosters, and Hydraulic Boosters, offer your vehicle reliable stopping performance, every time. Each unit is reverse engineered, based off 40 years of CARDONE Engineering expertise, where original design weaknesses are identified, corrected and where applicable upgraded to provide a more durable part then the original unit. Every unit is remanufactured to meet or exceed OEM performance, providing a quality product both you and your vehicle rely on.