2001 Infiniti I30 Disc Brake Caliper - Rear Left Cardone
P311-25E6E6E 19-B2001 Remanufactured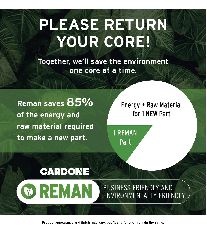 Unloaded Caliper w/Bracket -Import
Reman. A-1 CARDONE Friction Choice Caliper w/Bracket
Product Attributes:

Bleeder Port Size:

M10 X 1.0

Brake Caliper Finish:

Unfinished

Brake Piston Count:

1

Casting Material:

Iron

Color/Finish:

Gray

Inlet Port Size:

M10 X 1.0

Installation Hardware Included:

Yes

Mounting Bolts Included:

No

Package Contents:

Caliper, Bracket, Hardware Kit

Pads Included:

No

Piston Material:

Steel

Piston Size (OD):

34mm

Product Condition:

Remanufactured

At CARDONE, quality is the foundation of our corporate culture and the focus of each and every part we sell. A1 CARDONE Remanufactured Friction Choice Brake Calipers are remanufactured to meet or exceed OEM performance. Each caliper includes all hardware needed for easy installation (mounting bolts not included). CARDONE's caliper hardware allows for quick and easy installation because you no longer need to search for replacement components or reuse old hardware. Also, all rear parking brake hardware is installed and lubricated for your convenience, where applicable. CARDONE's dedication to quality and consistency is supported in our focus on facilitating caliper installation and offering you flexibility. With the freedom to choose whatever friction you desire, A1 CARDONE Remanufactured Friction Choice Brake Calipers can be tailored to meet your needs.